When it comes to hot water leaks, even a tiny drip can quickly become a big problem with your hot water system
If you're reading this article, you've probably just suffered through a colder-than-usual shower and checked your hot water system, only to find a puddle underneath the tank – a leak!
If you've ever asked yourself, "Why is my hot water system leaking?" then you've come to the right place. Within this article, CDL Plumbing will outline what to do if your hot water system is leaking, who to call, the causes of a leak or other problems, and the importance of getting it fixed quickly – to avoid finding yourself in more hot water.
How to Deal with Your Hot Water System Leaking
Before diving into what to do after noticing your hot water system leaking, let's go over what makes up the hot water system and where your leak will most likely originate. The main components of the hot water system that you need to be aware of are the tank, the pressure relief valve, the top cap, and the connected pipes. Understanding these vital components will help you to understand how the leak may have occurred. Most hot water systems come with a manufacturer warranty of up to 10 years, depending on the brand.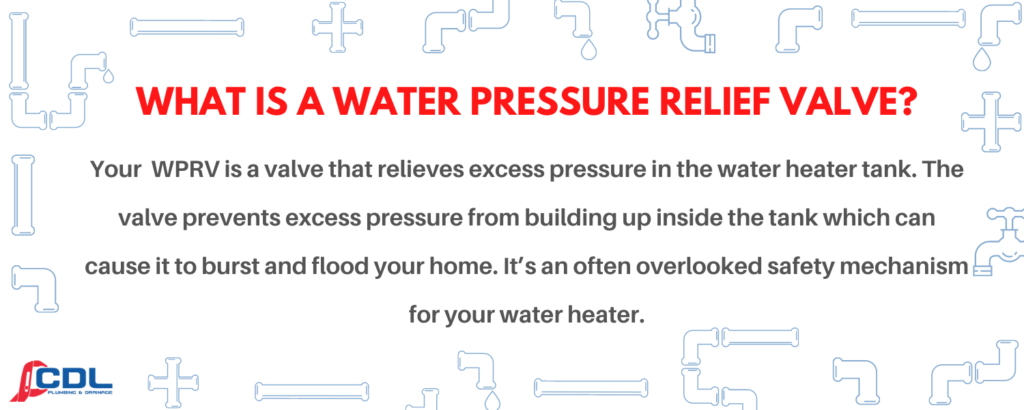 Step One: Locate Where the Leak Is Coming From
The identification process begins by completing a thorough inspection of your hot water tank. Check if the hot water system is leaking from the top cap or the bottom.
Typically, it is a more straightforward fix if the leak is coming from the top cap, than the bottom. A leak on the bottom indicates a problem with the tank itself. Other locations for the leak may be the release valve, or from nearby pipes, which is an entirely different problem.
Hot Water System Leaking from Release Valve
A leaky release valve is not the end of the world. Sometimes these parts of a hot water tank leak a small amount of water; however, if it is a constant leak, that is cause for concern. A release valve replacement is usually an inexpensive replacement and, when mended early, can prolong the life of your hot water system while lowering your water wastage.
Hot Water System Leaking from Top Cap
The most common reason your hot water system may leak from the top cap is due to an issue with loose connecting pipes. Top cap leaks tend to be a much easier fix than any issue involving other parts of the hot water system.
Hot Water System Leaking at Bottom
A hot water system leaking from the bottom may result from a drain valve at the bottom of the unit that is faulty. A plumber can easily replace these valves. It is crucial to ascertain whether the leak is coming from the bottom of the tank and not trickling down the tank from a leak at the top.
Step Two: Turn Off the Water
Once you have determined the leak's location and the severity of the leak, turn off your water supply. Turning off the water supply is either done directly at the hot water system or via the water supply for your entire home. This may sound like a major inconvenience but stopping water from entering the system is essential to lowering the potential for damage to your system or home and will save you time and money down the line. This step applies to all hot water systems, whether electric, solar, or gas.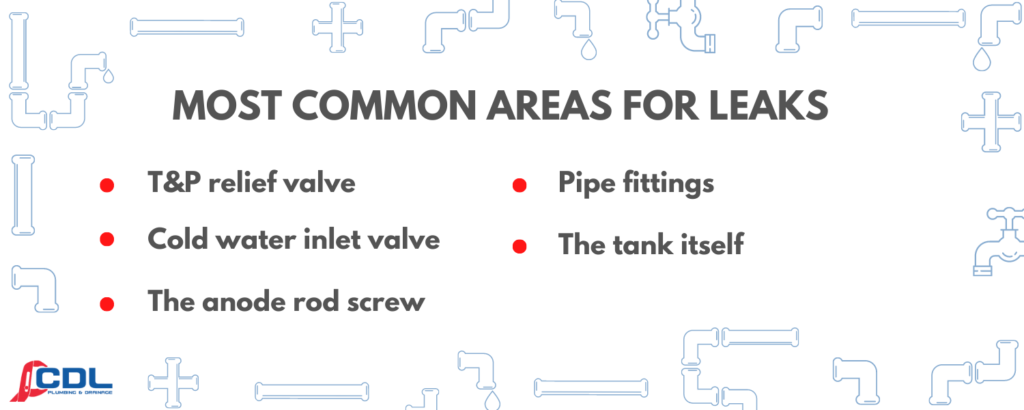 Step Three: Call the Professionals
Once you have ensured a halt to your home or apartment's water supply, you should call in your local plumbers. If you're within the Newcastle or Lake Macquarie region, call in the professionals at CDL Plumbing. Our plumbers will provide a more accurate diagnosis of the cause of your hot water system leaking and advise you on how to proceed. Depending on the severity of the leak, your system will either need to be replaced or repaired but usually, we can repair most leaks.
The entire team at CDL Plumbing are fully certified to deal with all electric and gas hot water systems and all issues concerning household plumbing. We are equipped to handle any hot water system leaking scenarios and will get the problem fixed efficiently, effectively, and affordably. We can either install a new or similar hot water system to the one you currently have or upgrade you to a new solar system if it is more economical and better for your situation. We'll also get the old system off the property - just one less thing to worry about.
Avoid the Temptation to DIY
Every now and then, our team will come across individuals who have attempted to fix their hot water systems on their own without the correct equipment. In the rare instances where this works, you still open yourself up to void insurance claims should any damage occur, even if the problem does go away. The home remedy is often a temporary fix that will come undone and unfortunately lead to a more severe and expensive problem. We continually recommend you take the guesswork out of fixing a hot water system leaking and give CDL Plumbing a call.
Importance of Fixing a Hot Water System Leaking
The following instances are some of the reasons why you need to repair a leaking hot water system sooner rather than later:
No hot water leads to cold showers in the morning and night. In the colder months, this is a considerable inconvenience.
A leaking hot water system will also increase water wastage at your home or apartment, which is a significant environmental impact.
If heated water is leaking out of the tank, this is a massive waste of power and electricity and will increase your bills.
Any leaks in a hot water system can be signs of damage and, if left untreated, will leave you liable to future, more costly repairs.
Defects in your system left broken can often void insurance claims.
Hot Water System Professionals
Save yourself the headache down the line and let CDL Plumbing get onto the issue early to ensure it doesn't happen again. We've been installing, repairing, replacing and solving hot water system leaking problems for over 15 years. Our knowledgeable team of hot water plumbers will quickly diagnose your concerns and get them repaired in the blink of an eye. Contact our team today on 0477 76 2937 for the best advice on any hot water systems or if you want a straightforward answer to "Why Is My Hot Water System Leaking?".