Rinnai Hot Water System Troubleshooting Techniques
Rinnai is a Japanese manufacturer of energy-efficient water heaters. With over 40 years of delivering reliable hot water to Australian homes, Rinnai is one of the most popular brands for hot water systems. However, they are not perfect. If you're reading this guide, it could be because your Rinnai gas water heater is not working, or perhaps you are experiencing Rinnai solar hot water problems. Whatever your concern is, CDL Plumbing is here to provide a comprehensive Rinnai hot water system troubleshooting guide, detailing how you can identify issues if they arise.
Most importantly, if you do notice any serious issues when conducting Rinnai electric hot water system troubleshooting, or for any other Rinnai system, it is imperative you do not conduct any work on your own. Always call a trained and certified professional plumber to complete work on your system. It will not only save you money, but it will also keep you from voiding your home insurance, should anything go wrong.
Troubleshooting should always be attempted before booking a service call with a team member at CDL Plumbing, as it can make the job of the plumber easier, and save you money.
Rinnai Gas Water Heater Not Working – What Next?
This guide will go through issues that can occur across the range of hot water systems produced by Rinnai. Let's start with Rinnai's gas hot water heater. If your gas system is not producing any hot water, ensure the following steps are taken.
Check the power supply by testing it with another appliance.
Assess the flow of the water by using a different outlet.
Inspect the machine itself to see that the gas connection is secure; if you have a gas stovetop, check there to make sure gas is still flowing through.
Clean and replace the filters of the hot water unit.
If you see an error code on the machine, check with the user manual guide provided when the plumber originally installed the machine.
Check the bayonet fitting near the tank and the connected hose to make sure it is not kinked, blocking the gas supply.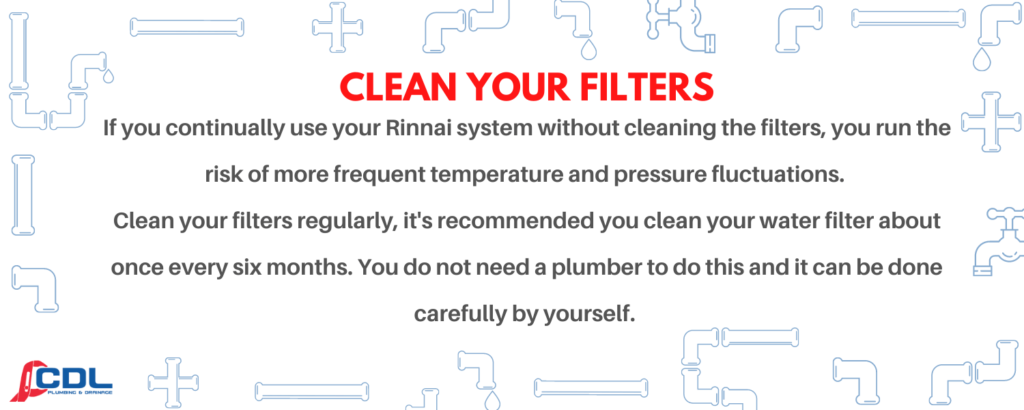 Other Issues That Can Affect Your Rinnai Hot Water System
Decreased Water Pressure
To troubleshoot a drop in water pressure from your hot water system, you should check other outlets in your home. If the low-pressure issue exists there, too, then it is a problem with the system; however, if the other outlets are fine, then an evaluation of the original outlet is necessary. Clogged pipes from excess sediment, a leak in the system, or a broken pressure regulator will all contribute to low hot water pressure. The exact cause of the issue can be diagnosed by your plumber.
Size Of Water Tank
If you have done all major troubleshooting examinations and still you run out of hot water, you should review your water usage. Running out of hot water does not always indicate a significant issue, continually running out of hot water might be a sign that you need a larger tank to suit the needs of your household. A larger Rinnai tank will be more expensive but save you the inconvenience in the long run.
Rinnai Hot Water System Troubleshooting: The Water Is Too Hot
Whilst cold water can be dealt with despite the inconvenience, an alternative issue that can happen to any Rinnai hot water system is that it can begin to dispense scalding hot water. When this occurs, it is not only incredibly dangerous but can be a sign of a severe problem in the machine. If it is not the result of the thermostat being set too high, you should contact your CDL plumber right away and avoid using hot water in the meantime.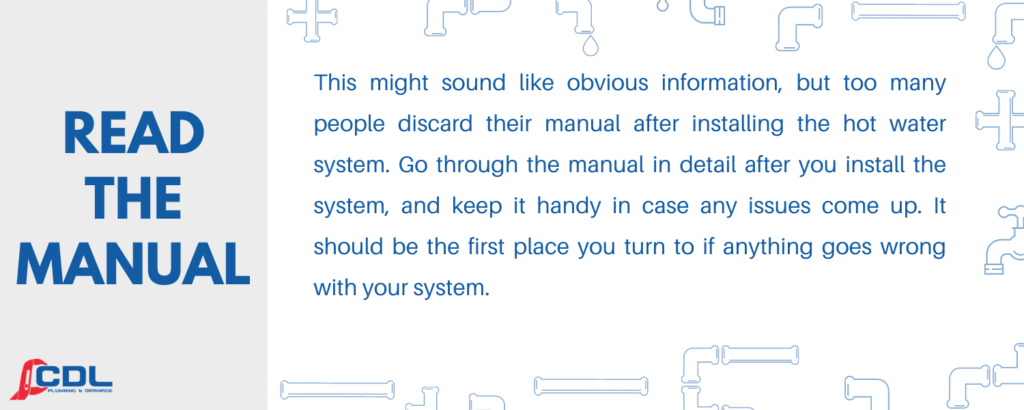 Avoiding Rinnai Hot Water System Problems
There are processes that you can take to avoid the need to complete any Rinnai hot water system troubleshooting at all. Annual maintenance of your Rinnai system by a certified plumber will help prevent any serious issues from occurring. Your plumber will check the condition of the hot water system and ensure any minor concerns are nipped in the bud before becoming serious issues.
Hot water systems are intended to last the better part of a decade. Once this period is up, it's important to look at upgrading sooner rather than later. Failure to do so will increase the likelihood that your machine will experience problems and increase the amount you have to spend on repairs. Upgrading will increase your energy efficiency and deliver a better supply of hot water, helping you avoid problems once and for all.
Rinnai Hot Water System Troubleshooting with CDL Plumbing
For those experiencing Rinnai solar hot water problems or Rinnai issues for any system, your best course of action is to call the experts at CDL Plumbing & Drainage. Our Newcastle-based plumbing team have been servicing, installing and troubleshooting Rinnais for over 15 years in the Lake Macquarie area - we can solve any issue that might occur in the life of your system.
All issues, whether big or small, should be looked at by a fully certified plumber, never try and do your own plumbing work. Not only is it illegal, but you run the risk of causing costlier damage. So if there's an issue with your Rinnai, call the team at CDL plumbing today on 0477 76 2937 for the best advice on your Rinnai hot water systems or for help with gas hot water systems, in general.