The Most Common Types of Taps Available for Bathrooms and Kitchens
Getting your head around the different types of taps on the market can be challenging. It's not as straightforward as one might think. When we think of taps, we think of a spout that dispenses water; but if you've ever designed a kitchen or bathroom, you know that it's not that straightforward.
Choosing and installing the right tap for your space can add a coordinated feel to your bathroom or kitchen. Whether you're looking to replace a leaking tap or give your bathroom or kitchen a revamp, having an understanding of the different styles of fixtures is essential. It's important to choose a design that enhances the look of your space, without compromising functionality.
So, when you're struggling to choose the right tap for your home, you'll most likely consider the most common styles of taps in Australian homes. To help you in your search for the perfect set of bathroom or kitchen taps, we have highlighted the seven most common tap styles in Australian homes. We'll provide you with insight into how they operate, why they are popular and how to work out whether or not they will be suitable for your home. Read on to get the most from your kitchen or bathroom build or renovation.
The 7 Different Styles of Taps
1. Basin Pillar Taps
Basin Pillar Taps are the most common style found in traditional style, older Australian homes. While the name may sound unfamiliar, you've likely come across this style - think of two taps: one for hot water and one for cold water.
The disadvantage of the separate spout design of pillar taps is that your water is dispensed in two extreme temperatures- out of one nozzle, you get scorching hot water, and out of the other, you get freezing cold water. To produce a temperature that's 'just right', you'll likely need to plug your drain and mix the water yourself in the basin. This might sound cumbersome, so if you're looking for a more convenient option, consider a mixer-style tap.
2. Mixer Taps
Mixer taps are arguably the most popular style of tapware used in modern and freshly renovated homes. The design is simple: one mixer tap is fitted with two handles, one for hot water and one for cold water. Unlike the pillar tap, the water emerges from a single spout.
Mixer taps make it easier to manage water pressure and gauge water temperatures safely. Unlike pillar taps, there's no need to dip your hand in the basin to test the temperature of the water, only to find that it's steaming hot! With mixer taps, you can identify the temperature of the water flow quickly, to prevent any nasty accidents.
3. Monobloc Mixer Taps
Monobloc mixer taps (or monobloc taps) make temperature control simple by combining your cold and hot water supply within a single stream of water. They are the minimalistic choice that eliminates the hassle of 'fussy' taps. Most designs are fitted with a single lever to control the flow and temperature. However, there are many twin-lever taps with two separate levers for cold and hot water that ultimately offer better temperature control. There's no need to waste water trying to find the perfect temperature, so monobloc mixer taps waste less water and are more economical in the long term.
There are different types of tap handles, and a range of monobloc finishes on the market to suit the style of your home, both traditional and contemporary, from waterfall spouts to aerated spouts, matte black to gold or stainless steel.
4. Washer Taps
Washer tap types, also known as compression water taps, are pillar-style taps that operate with a twisting handle. As the name implies, the washer mechanism controls the flow of water released.
The downfall of washer tap types is that any damage and wear and tear will often result in a leaky tap. The washer must be able to form a watertight seal to prevent leaking.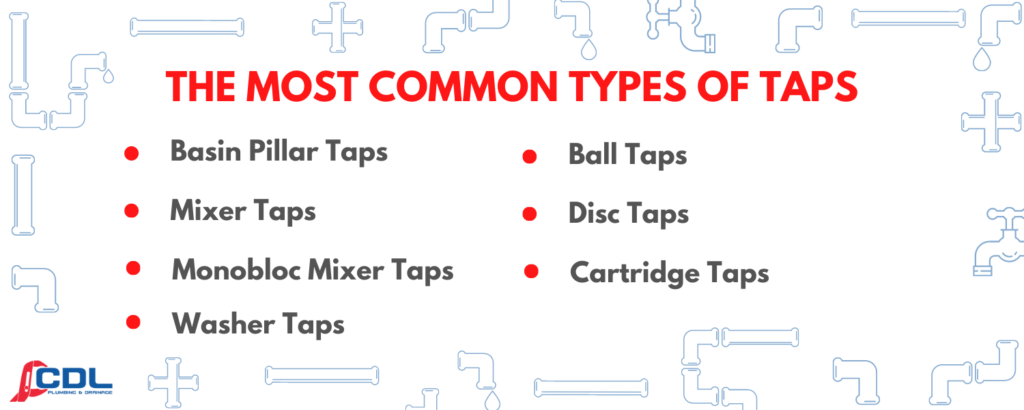 5. Ball Taps
Ball tap styles are similar to the monobloc mixer style of tap, but rather, with a round shape that contains (what is essentially) a hollow ball. This ball joint allows you to move the handle in different directions, making it easy to adjust water pressure and the water flow rate. While these taps are typically easier to control, they are prone to leaking.
6. Disc Taps
Disc-style taps are fitted with a single lever and are designed with a wide cylindrical body. A disc type of tap contains a pressure balance cartridge that blends hot and cold water through ceramic discs.
Fine-tuning the water temperature can be more challenging with disc taps, than other types of taps. However, disc taps are renowned for their benefits. Typically, they are more durable, reliable, high quality, require more minor repairs and are designed to last a lifetime.
7. Cartridge Taps
The cartridge tap has similar features to the fixtures listed above. However, the difference lies in its inner workings, the internal cartridge, a plastic piece located within the handle valve. When the handle is operated left and right, it controls the temperature, and when used up and down, it regulates the pressure of the water flow.
Not Help Choosing the Right Fittings? Call In the Experts
At CDL Plumbing and Drainage, we know how challenging it can be to find the right tapware fixtures for your space.
With over 15 years of experience servicing satisfied customers across Newcastle and Lake Macquarie. We're the plumbers locals turn to for their plumbing, kitchen, and bathroom renovations. We provide expert advice and can guide you through choosing a tap style to suit your home, one that refreshes your space and functions exceptionally with your plumbing fixtures.
Our expert plumbers are fluent in the different types of taps and are dedicated to providing economical, personable and professional services. Give us a call on 0477 76 2937 today for more information on types of taps, tap installations, tap fittings and more.