What Causes Blocked Stormwater Drains & How You Can Remedy Any Blockages
Blocked stormwater drains are an absolute nightmare – there's no doubt about it. Whether you're facing a blocked drain yourself or are worried about the potential hazards faced with stormwater drains becoming blocked, we've got you covered. Although stressful and inconvenient, it is possible to remedy a blocked stormwater system – read on to have your worries washed away.
Like sewers, toilets, and other plumbing fixtures, stormwater drains can become easily blocked and cause a real headache for residents. Blocked stormwater pipes can bring unpleasant smells, sights, and situations!
Unblocking drains is best left to the professionals, as incorrect handling and techniques can only worsen your issue and lead to damage to your plumbing fixtures. Using a qualified and experienced plumber will guarantee a suitable long-term remedy that will leave your drainpipes clear, secure and working better than ever.
Let's start with the basics:
What Causes Blocked Stormwater Drains?
Stormwater drains serve to collect and remove excess water away from your home and guttering through underground pipework. Many drainage channels such as those around driveways of footpaths will also feed into these drains. Without a functioning stormwater system, the foundational integrity of homes and buildings could be at risk, and flooding may occur.
While stormwater drains are designed to handle significant volumes of water, they can become blocked at times due to:
Tree Roots
Garden Debris (leaves, dirt, plants)
Rubbish
Damaged Pipes
Collapsed Pipes
The most common cause of blocked stormwater drains arises from tree roots that either damage, block, or break the drain, searching for underground water and nutrient reserves. Another key culprit is debris that builds up inside the drains. Both organic waste and rubbish easily wash into the drains during periods of heavy rain.
How Do I Fix a Blocked Storm Water Drain?
As mentioned earlier, unblocking a stormwater drain is best left to the professionals. DIY and home remedies do more harm than good and can put the individual trying to fix their drain in danger. Drains and especially blocked drains have all sorts of debris and foreign material that could prove hazardous or unsightly.
Additionally, most stormwater drains are connected to the ocean; as such, whatever you try to put down your drain will likely end up there. Far too often, drainage issues are treated with harmful and toxic products that have serious environmental consequences and aren't what you want lying around your house.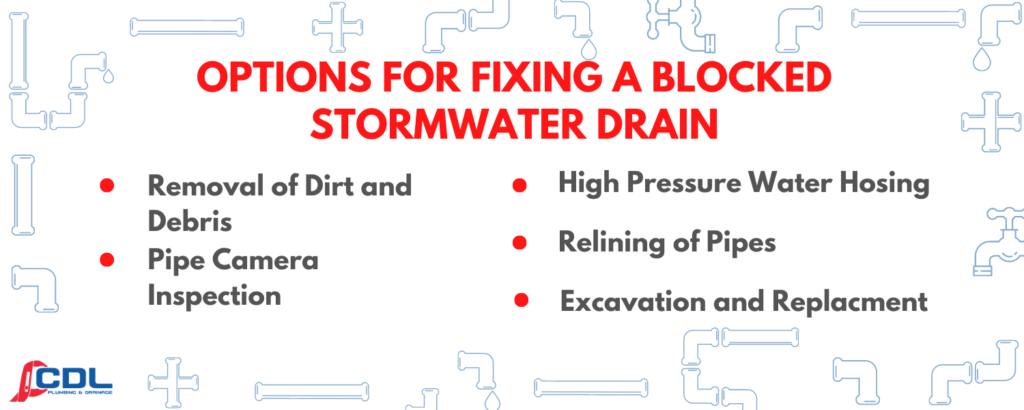 Remove All Dirt and Debris
Dirt and debris are common causes of blocked drains in any home or building. When called out to a blocked stormwater drain, your local plumber will make an initial assessment of what is causing the issue and identify the most appropriate tools to use.
Sometimes, the blockage can be at the entrance to the drain and easily removed; while it may prove unsightly or unpleasant, a qualified plumber can quickly fix it. Plumbers can rely on simple tools and manual handling to remove the debris from the drain's opening and fix the blockage. However, blocked stormwater drains are often not easily solved and require more time and expertise.
How Do I Fix Blocked Stormwater Pipes?
Blocked stormwater pipes can be tricky to fix as they are often underground. If you try to clear underground piping and don't know what you are doing, you could make things worse by pushing the material further in without breaking it up.
To fully understand where the blockage is and what's causing it, plumbers can rely on a CCTV camera to feed into the drainage system and get a better look at what's going on. With the information from the camera, they can then choose the best method to clear the blockage and preserve the integrity of the stormwater pipes.
High-Pressure Water Cleaning
A popular method to unblock stormwater drains and pipes is using a high-pressure jet water hose. This safe and effective tool uses a specialised hose and nozzle that shoots water into the pipes to break up dirt, leaves, and silt. The hose uses a motorised pump to achieve a pressure of between 4000-5000 psi which can cut through just about anything blocking your drain, including tree roots. The only thing that a high-pressure water cleaning cannot fix is issues resulting from damaged or collapsed pipes; these are remedied by replacing or relining the pipes themselves.
Relining or Replacing Your Pipes
Relining or Repairing Pipes
If your stormwater drain is cracked or collapsed, you will require relining or replacing to fix your drainage issues. Relining the pipes involves inserting a custom section of piping or lining within the existing drainage line to repair any damage or cracks. Relining can be done on all pipes and is a cost-effective solution that reduces any significant disruption.
Digging Out and Replacing Pipes
If you have significant issues with your stormwater drain, plumbers may be required to dig it up for inspection and replace whole sections. Digging up the drainage lines is often a last resort due to the time, labour and cost involved with this process. However, it may be necessary to solve significant issues. Plumbers will dig out around the existing piping, create a trench and conduct any work required to repair the drainage system. After completing the repair, they will fill in the trench and perform any landscaping necessary.
How to Prevent a Blocked Storm Water Drain
The best way to prevent a future blockage in your stormwater drain is to keep your pipes, roof and garden maintained. A common cause for the blockage is the build-up of sediment, soil, and debris. Simple practices such as cleaning your gutters and flushing your downpipes on a routine basis prevent significant build-up. Additionally, installing guards on your drains will prevent debris from getting into the drain and pipe system.
Call In the Experts
Have a blocked stormwater drain that needs remediating ASAP? It's time to call in the expert team at CDL Plumbing.
At CDL Plumbing, we have over 15 years of experience fixing blocked stormwater drains and sewerage drains and are experts in providing safe and reliable solutions. Our team is ready to assist you with any of your drainage concerns, including specialists' services for blocked drains in Newcastle or Lake Macquarie areas and drainage plumbing experts when you're facing blocked drain emergencies. If you are looking for assistance with a blocked stormwater drain or require backflow prevention, give our team a call on 0477 76 2937 today.