Accounting for about 25% of all household energy consumption, the question of whether to install an electric hot water tank vs gas in 2023 is hotly debated
And for good reason. Both are fantastic options for a wide range property. When deciding if a gas or electric hot water system may be best for your home or business, there are a number of factors to consider.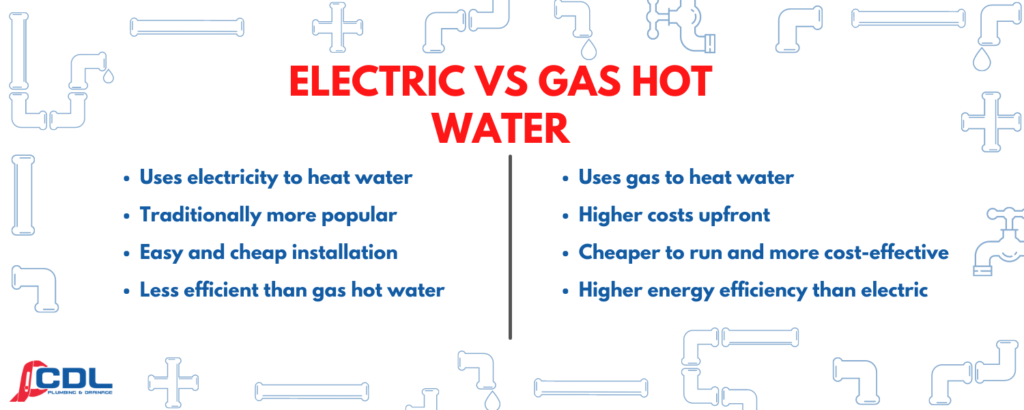 Electric Hot Water Tank vs Gas Hot Water Tanks
Sustainability and longevity are major concerns, but the overall cost is often the deciding factor for those that are looking to purchase a new hot water system. Below we'll take a closer look at the pros and cons of each system as they work in different ways so you can make the best decision for your property.
Here's what you should know about an electric hot water system:
1. Electric hot water systems use an electric element to heat water and then store it in a tank.
2. Electric hot water systems are the most common. Despite traditionally being the most popular choice, governments are beginning to phase electrical systems out in favour of more efficient alternatives.
3. Installation is easy and cheap. One of the main benefits of choosing an electric hot water system over a gas system is that the up-front price and process is relatively simple, and therefore, more affordable.
4. Electric systems are less efficient than other hot water systems.
What about gas hot water systems?
1. Gas hot water systems operate by heating water with a gas element, either LPG or natural gas.
2. Gas hot water systems will cost more upfront – the installation process is more complicated and therefore, more expensive.
3. Gas hot water is more cost-effective in the long run when compared to electric and other heating systems.
4. Gas hot water systems are more energy-efficient than their electric counterparts, as they heat water faster and do not need to be operating as often as electric models.
What about solar hot water systems?
For more info on solar hot water systems and their costs then please take a look here.
Is a Gas Water Heater Cheaper Than Electric Water Heater?
If your sole concern is how much your monthly bill will be, then gas may be the option for you. The running costs of a gas hot water system are often significantly lower than an equivalent electric system.
Installation fees, however, are vastly different. Installing a gas system will cost more than alternatives, as a licensed gas fitter is required to perform checks on the gas pipes for proper ventilation, before installing the system. All in all, the installation of a gas hot water system is more complicated and will require specialized knowledge.
On the other hand, while installation costs for gas hot water systems are often higher, the money saved from lower ongoing costs will usually pay for the extra installation fees within the first few years of operation.
An electric system is often easier and cheaper to install, as it's a simple process to connect the system up to a power supply that is readily available at most commercial, residential, and industrial properties. Swapping over from an electric system to a gas system can be costly, as new wiring and gas pipes will need to be installed to supply the new gas unit.
Electric Hot Water Tank vs Gas: Which Will Last Longer?
While debating whether to install an electric hot water tank vs a gas hot water tank, you may need to consider how long each system will last, and how long you plan to stay at the address at which it's being installed.
Gas hot water systems typically last longer than electrically heated systems. However, the higher installation costs mean that if you're not planning to live or work at the address where it's being installed for long, then it may not be worth the initial investment. If, however, you're planning to stay for longer than five years, then the higher installation costs will be negated over time, as your running costs are likely going to be lower, and your system will experience a longer lifespan.
A continuous flow gas-power hot water system can last up to 20 years with proper maintenance. You can expect an electric system to last for up to 12 years, depending on whether it's a tank system or tankless. You should always check the warranty of any hot water system before installing it. The length of the warranty may give you a good indication of how long the manufacturer expects it to last.
Maintenance Will Prolong the Life of a Hot Water System
Regular maintenance of any hot water system will prolong its working lifespan by up to double. Servicing and quickly fixing any issues that arise will also help your hot water system keep working well for as long as possible. This is especially relevant if you're in an area with hard water. The quality of water flowing through your system will have a significant effect on how long it lasts. Unfortunately, there's little you can do about the local water quality, but regular maintenance will ensure your chosen system lasts as long as possible.
If you're serious about extending the life of your hot water system, a local plumbing professional can perform a number of checks to ensure everything is running well.
Tank vs Tankless Hot Water Systems
Installing a tank or not installing a tank will have a marked effect on how much energy your system consumes. Tank systems store pre-heated water that's ready to go whenever the user needs it. Tanks come in different sizes, but the average size is 250 litres. Keeping 250 litres of water hot at all times will use a lot of energy.
A tankless system is more energy efficient because there's no need to keep large amounts of stored water hot. It works by generating hot water on demand, which is more energy-efficient but typically only viable for apartments or small homes.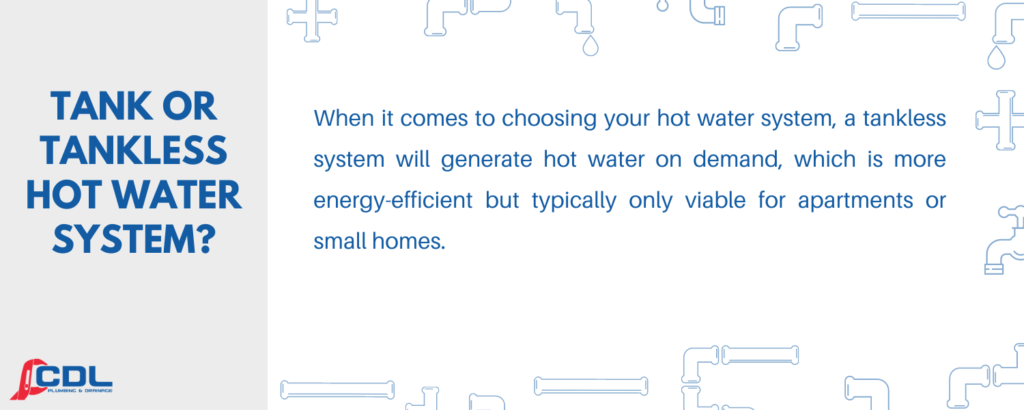 So, Which Is More Efficient, Gas or Electric Water Heater Systems?
If you're currently deciding between a gas or electric hot water system, we hope the above information has helped you make a cost-effective and energy-efficient decision. But really, every situation is a little bit different, and the choice you make will also depend on the household itself! If you need to talk to an expert in Lake Macquarie or Newcastle make sure they are also registered and licensed gas plumbers like CDL. For information then just give CDL Plumbing and Drainage a call on 0477 76 2937.