In the case of an emergency gas leak, it is absolutely vital that you are aware of the potential danger posed - call 000 if you believe the leak is dangerous to life or property
Gas leaks can be incredibly dangerous – if you suspect there is a serious threat, you need to call in emergency services.
If you're not in any immediate danger, but you suspect a gas leak on your property, you may be able to remediate the problem by simply turning off an appliance or gas meter. However, if there is no simple fix to the problem, you'll need to call in the assistance of a qualified gas plumber that can help with your emergency gas leak.
The first step in addressing any gas leak concerns is to priories the safety of you and your property. Within this article, we'll outline what to do, who to call and how you can prepare for emergency gas leaks. It is reassuring to know that qualified plumbers and emergency services are equipped with the skills and knowledge to identify the source of a gas leak and handle the situation.
What Do I Do If I'm In An Emergency Gas Leak Situation?
Gas leaks can be serious business. While most gas leaks are minor and caused by ageing pipes, appliances or gas hot water systems, there is a severe potential for gas leaks to pose a significant hazard to people and property. If you believe a gas leak could pose a risk to life or property, you should contact emergency services straight away on 000. They will tell you what to do if you smell gas in your house or street and be on their way. Reasons for calling emergency services could include:
You can smell gas
You can hear a hissing noise or gas escaping
There has been an explosion or fire from gas
Damage has been caused to a gas pipe, meter or main
It is crucial that you tell the authorities all the information you have – regardless of how minor. Every piece of information can help emergency services identify the causes of the leak and secure the safety of everyone in the area.
Emergencies may occur when there is a gas leak in the main pipeline; these are the pipes responsible for delivering gas to homes and buildings. They carry a significant volume of gas and, if undermined, must be attended to immediately.
What To Do if You Smell Gas in the House:
If you smell gas in your house, you should work quickly to determine if it is a major or minor leak. In an emergency, your primary concern should be ensuring the safety of yourself and those around you. If you can smell gas and do not feel safe, get out of your house and call emergency services.
In most residential situations, the primary cause is usually due to an unattended or faulty appliance. Check all your appliances and make sure they are turned off. When checking for an emergency gas leak, you should:
Ensure there are no naked flames or ignitions sources (this includes light switches, matches and cigarette lighters)
Not operate electrical equipment (these may spark and ignite the gas)
Do not try turning any lights on or off
Ventilate the area as best as you can by opening windows and doors

Turn Off Your Gas Meter
If you cannot determine the source of the gassy smell or it is still coming from an appliance after you have turned it off, it is time to turn off your gas meter.
The gas meter is usually placed on a rear exterior wall or your front veranda in free-standing houses, typically close to your electricity meter. Older homes may have them in a different location, such as a garage, hallway, or laundry. The gas meter could be in the basement or under the kitchen sink in apartments or buildings with multiple dwellings. If unsure, you can always contact your building manager.
Once you have located your gas meter, rotate the valve so it is at a right angle to the pipe, which will shut off the gas. By turning off the gas meter, you will stop the gas flow from the mainline into your house. This will cut off the supply and hopefully stop the leak.
Who Do I Call if I Can Smell Gas In My Apartment?
After you have turned your gas meter off, exit your property and call a licensed plumber or gas fitter. If you live in a rental or strata property, you should also contact your real estate agent or property manager.
When they arrive, a certified emergency plumber will be able to identify any issues with your plumbing and gas fittings to conduct the necessary remediations and ensure your plumbing is good to go. This could include repairing appliance connections and replacing faulty piping and fittings.
At CDL Plumbing, we provide gas plumbing and emergency plumbing services to help our customers when they need us most. Our team is fully qualified to conduct any gas leak assessments and carry out the necessary remediations to ensure that your gas systems are safe and in line with all the required safety regulations.
Who Do I Call if I Can Smell Gas?
You can call various authorities in an emergency gas leak, depending on where you think the gas leak is located. If the gas leak is coming from the street or somewhere beyond your gas meter, this is the responsibility of the gas distributor. In Sydney and the Hunter Region, Jemena Gas Networks are the primary gas distributor. If you are unsure who to call for a gas leak in your home, you can find the contact details of your gas distributor on your gas bill. Notify them immediately of the gas leak.
Who To Call for a Gas Leak in Your Home?
Call a licensed plumber or gas fitter if you think the gas leak is coming from your home. If you feel like there is immediate danger, call 000 immediately.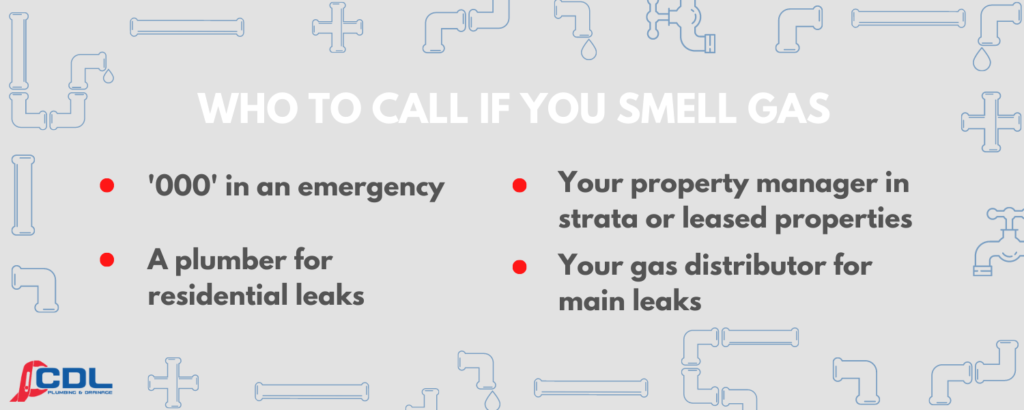 Gas Leak: What to Do To Prevent an Emergency
The best way to save yourself from unexpected emergencies is to keep your appliances and plumbing well-maintained. Routine maintenance and inspections by a qualified plumber will be able to keep your appliances in good working order, ensure all your gas fittings are secure and that your gas meter is functioning correctly.
Whenever you install a new appliance or gas system, work with a qualified plumber. If you were to install any gas-related device yourself you would be breaking the law and there is a much higher chance of faults occurring and leaks arising.
Worried About a Gas Leak? Who to Call:
If you are looking for a qualified plumber in Newcastle or Lake Macquarie, look no further than CDL Plumbing. Our plumbers are experts on all things gas and provide swift gas response services and gas plumbing should you ever experience an emergency gas leak. For more information about our services and locations, do not hesitate to contact our friendly team today.