A functioning hot water system is an essential item in every Australian home
However, with electric hot water system prices varying across the market, it can be challenging to figure out what system and budget are best for you.
Water heating accounts for up to a quarter of most households' energy bills. With such a large amount of money and energy being spent, it is important to choose a hot water system that will handle your demands and remain efficient. Every family and building have varying hot water needs, and as such, the cost of electric hot water systems varies. When choosing your electric hot water system, it is crucial to know what is typical in the industry, and how you can best spend your money.
Electric Hot Water System Prices
While there are many types of water heaters you can choose from, including gas, solar and heat pumps, in this article we're going to focus on electric hot water systems.
Electric hot water systems are a fantastic choice - systems can be installed either indoors or outdoors and are relatively cheap to buy and install. Most stand-alone units cost between $300 and $1500. As hot water plumbers, here at CDL Plumbing, we always look for an energy-efficient model to reduce your energy consumption and ongoing costs. Generally speaking, electric hot water systems are typically more expensive than other types of hot water heaters to run. Let's delve into why.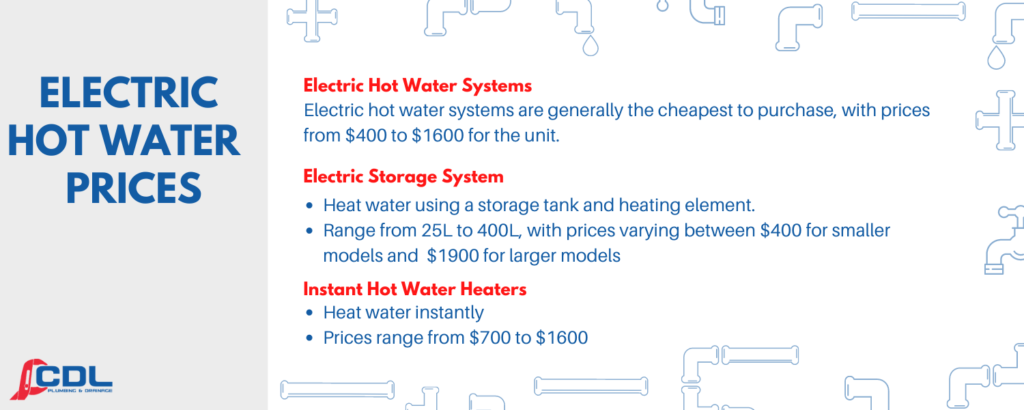 Factors that Influence the Cost of Electric Hot Water Systems
1. Household Needs
When considering electric water heater prices, a good starting point is identifying the needs of your household. You need to consider the lifestyles and schedules of your family to determine a system that will best suit your household needs. There is no point choosing a smaller, cheaper option if you are constantly going to be running out of hot water, nor is it reasonable to purchase a system that is larger than you need and drawing excess power. Generally speaking, a four-person home needs between 125 to 160L for a continuous system and 250 to 315L to run off-peak.
2. Unit Type and Size
When it comes to electric hot water systems, there are two main models: storage and instant.
Electric storage systems have a large tank and a heating element. The tanks range from 25L to 400L, with prices varying between $450 for smaller models and $1900 for larger models.
Instant hot water heaters do not use a tank and instead heat water on demand using large amounts of power. These can be more efficient by only using small amounts of water when needed and typically cost between $700 to $1600 for the standalone unit.
3. Delivery Costs
Electric hot water system prices will vary depending on the size and weight of your system and how far you need to transport it. For example, a small system might only weigh 20kg and be easily transportable, while larger models may weigh up to 150 kilograms and require specialist delivery. The accessibility of your household is another factor. While most suburban homes are easily accessible, houses with unique requirements to fit their system in place may need to pay an additional fee
4. Installation Costs
It's important to work with a qualified hot water plumber like CDL Plumbing for your electric hot water installation and hot water servicing and repairs. Electric hot water heater installation prices will vary depending on the type of hot water heater you are installing and if any alterations need to be made to your pre-existing plumbing. If you are installing a new system similar to your old hot water heater, installation can be done in a few hours and could cost between $200-$600.
However, if the installation of your electric hot water system requires a more complex process, such as moving the position of the water system or changing energy type (e.g. gas to electric), the process could cost a few thousand dollars. The most significant factor contributing to electric hot water heater installation prices is the time and labour taken to complete the job. Hourly rates vary between plumbers, so it is essential to get a quote before you start the job, so both parties understand what work will be completed. Getting cheap installation is pointless if your new hot water system leaks not long afterwards.
5. Disposing Of Your Old Hot Water System
If you have an old hot water system, you will need to get rid of this. Responsible disposal of your old water heater can be done relatively cheaply, either through your installer or a third party, for about $80.
6. Ongoing Costs
Whilst most won't consider ongoing costs as part of their electric hot water system prices research, it is still important to think about. To reduce your ongoing costs, make sure to choose an efficient hot water heater and consider how you might take advantage of off-peak hours to reduce your electricity bill which should be compared to gas.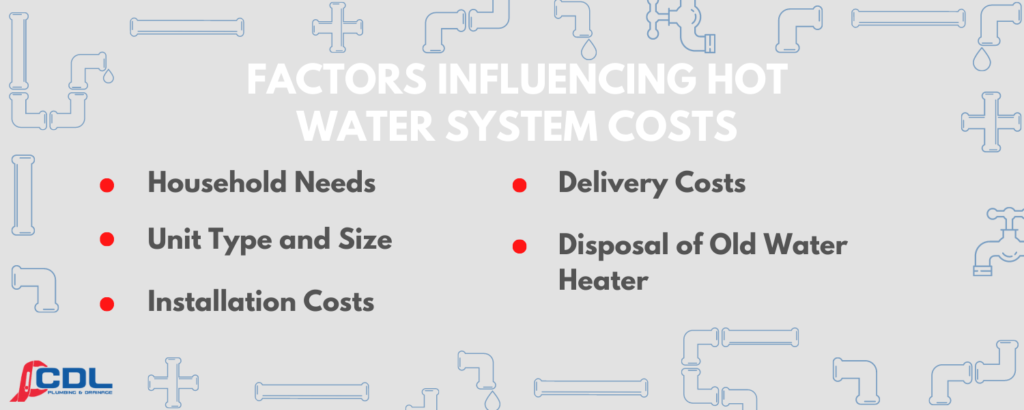 How Do I Know I am Getting a Good Price?
After understanding the various factors affecting the cost of electric hot water systems, it is essential to do your research. By researching the different products and options available to you, you will better understand the market and what offers are out there.
Additionally, it is important to consult with an expert plumber, such as those at CDL, to ensure you are choosing an appropriate hot water system that can be installed in your home and handle your needs. When talking to the plumber, you can also ask for an installation quote and pricing should you need an old system removed. If you are unhappy with the quote and advice you receive, you can always seek a second opinion.
Choose Quality Craftsmanship over Cheap Services
Many companies and tradespeople offer cheap services hoping to draw in prospective customers. While these offers may seem promising, it is important to ensure you are still receiving the services of an expert and fully qualified plumber. A poorly selected or installed hot water system can be annoying for the homeowner to fix down the track and result in significant added costs. Buying a great brand and model is a waste if it's poorly installed, but a decent brand that's well installed should last at least 10 years.
If you are looking for expert plumbers in the Newcastle and Lake Macquarie area, CDL Plumbing is an industry-leading company passionate about helping customers with their plumbing needs. For more information on electric hot water system prices call us on 0477 76 2937 or submit an enquiry through our contact page.