What's the Cost to Fix Burst Or Damaged Water Pipes in 2023?
If you've found yourself with a broken water pipe, you're likely researching plumbers in your local area like Lake Macquarie or Newcastle and how much the repair is going to cost. We're here to help.
A burst or broken pipe can be an annoying problem that can quickly escalate if not attended to as soon as possible. Burst pipes can send a severe amount of water into places where it shouldn't be. When you require a plumber in your hour of need, it's important to have an understanding of how much water pipe repair costs, so you're on the same page when it comes time to quotes.
Water Pipe Repair Costs in 2023
The cost to fix burst water pipes will depend on various factors that relate to the extent of damage to the line and its location on the property. Before any work commences, it's important to remember that most plumbers will often charge a call-out fee. Additionally, plumbers have varying hourly rates for their services or prefer to quote on a project-by-project basis. While this article will provide you with approximate costs, the price you pay will depend on the quotes you receive and the unique requirements of your job.
How Much Does It Cost to Fix Burst Water Pipes?
For most homes in an urban area, the typical burst water pipe repair cost is between $200-$1000. The range is quite broad, as the time and labour involved vary depending on the cause of the leak, the extent of the repair required, and the accessibility of the pipes.
If you are lucky and the plumber determines that your leak is simply from an issue with a plumbing fixture or tap, your water pipe leak repair cost could be between $60-$140.
Sometimes the damage is more extensive upon further inspection. If additional services such as pipe replacement or relining are required, the costs could be between $2000-$4000 or more, depending on the situation. For a free quote with a more specific price then just get in touch with us.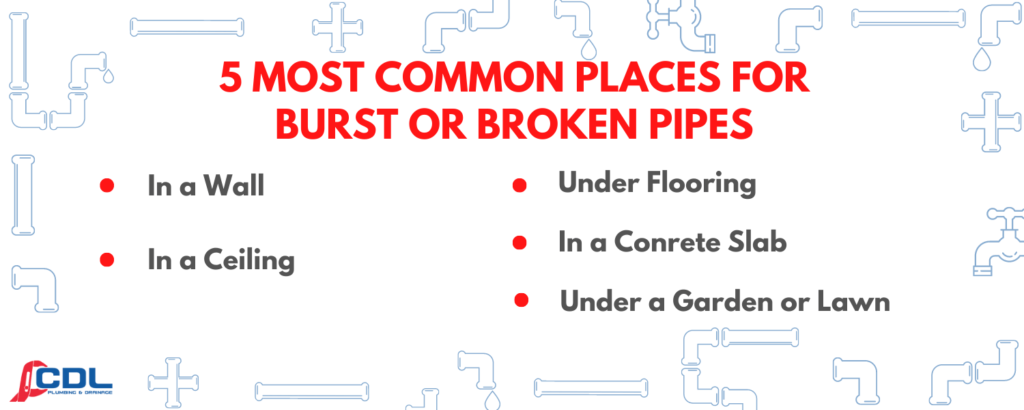 The Main Broken Water Pipe Repair Cost Factor is the Location
The location and accessibility of the broken pipe have a significant weight on the costs involved in repairs. The most common places to find burst water pipes are in a wall, ceiling, under a floor or concrete slab, and in garden and lawn areas. Accessing pipes behind a wall incurs extra costs as the plumbers may have to take out a section of the wall that they will then patch up and fix once the pipe has been repaired. This increases the labour required to complete the job and requires additional materials and even tradespeople to patch up the wall or ceiling. Luckily we are very skilled at water leak detection and using our experience and the latest technology after the information we get from discussing the issue with you we can usually locate the leak very fast.
If the burst pipe is located above a ceiling or under a floor, the plumbers would either access the pipe through an external access point such as a roof cavity or basement or create an opening by drilling or cutting a section of the surrounding areas. If the pipe is in a concrete slab or external area, the required excavation work would be more substantial. Plumbers may also utilise additional leak detection efforts to pinpoint the exact location of the burst.
While the water pipe repair cost would stay regular across most jobs, the work required on either side of the repair causes most price variations.
Why Do Pipes Break and Leak?
Most issues arise from old pipes wearing out and inadequately handling the water pressure flowing through them. This can be from blockages and clogs resulting in burst or cracked pipes or excess stress on worn-out seals.
Worn out Seals
Broken or loose seals are a common symptom of leaking pipes. Seals are used on every connection in your water to ensure water remains inside the system. As they degrade, water finds any gaps and begins to leak out. A common sign of this is small puddles around appliances or condensation around the connections.
Blocked Drains and Lines
Debris, tree roots, foreign material, and sedimentation all contribute to blockages in your drains and pipes. A build-up of these blockages can strain your pipes and lead to leaks or even bursts if the pressure builds up enough. More severe blockages can contribute to your busted water pipe repair costs and may even require total methods to clear the material.
Corrosion
Easy to spot but hard to stop. As your pipes age, rust will become increasingly evident and slowly eat away at them. Eventually, it will be substantial enough to compromise the integrity of the pipes and may require replacing them.
While these are three critical factors for water pipe repairs cost and why issues arise in your pipes, other factors, including damaged joints, excess water pressure, and temperature variations, can all contribute to leaky and damaged pipes.
How To Choose the Right Plumber
As we mentioned earlier, the exact burst water pipe repair costs will depend on your situation and the plumber you choose. That's why it is so important to choose a tradesperson who you trust and is qualified to carry out the necessary repairs.
Shop Around
To check you are getting a fair price on your project, we recommend contacting a few plumbers about their water pipe leak repair costs. Receiving multiple quotes will help you better understand what you should be paying and identify anyone overcharging or providing a price that seems too good to be true.
Make Sure They Are Qualified and Insured
Whenever you employ a tradesperson to conduct any work on your property, it is essential that they are qualified and insured to carry out the required. An unqualified plumber working on pipes may only worsen the situation and increase the cost of repairs. It is also crucial that they are insured to protect both parties in the event of an injury or damage occurring throughout the project.
Rely On the Experts for Your Damaged Pipes
At CDL Plumbing, we know the ins and outs of busted water pipe repair costs and will provide you with an honest and reliable quote before starting any work.
If you think you may have a leaking or broken pipe, do not hesitate to reach out to our expert team. At CDL Plumbing, we have over 15 years of experience servicing satisfied customers with our services, including backflow prevention, blocked drain services, and all major plumbing services across Newcastle and Lake Macquarie.
If you have any further questions about broken water pipe repair costs and how we can assist you, give us a call today on 0477 76 2937.